A children's novel by Booker prize-winning author Sir Salman Rushdie has inspired animation students at London's Kingston University to create short films based on the book.

Luka and the Fire of Life tells the story of 12-year-old Luka Khalifa who, along with his two loyal companions, a bear called Dog and a dog called Bear, is on a quest to steal the fire of life to revive his beloved storyteller father Rashid who has fallen into a deep sleep. The book was written by Rushdie as a gift for his son Milan on his 12th birthday.

It inspired students Han Byul Lee, Sam Falconer, Irsiz Heathershaw, So Hewi Lee and Dawn Smit to create this short film, which was judged the winner.
Rushdie said of the winning film, "I loved the post-Sendak wit of the drawing style, in which the boat becomes as much of a character as the characters. It was also the animation that succeeded best in telling its story without words, and both the comedy and the drama worked perfectly."
Students from the University's faculty of art, design and architecture visited the book's publisher Random House to meet the author and present their ideas for visual concepts. Four of these concepts were selected to be made into four animations, which then went to a panel of judges including Rushdie and Milan, to whom the book is dedicated, to select an overall winner.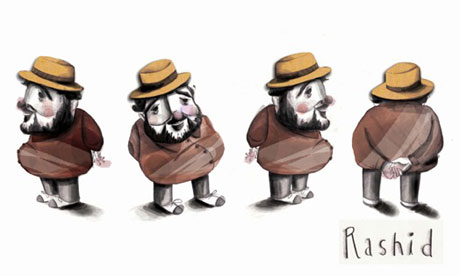 One of Sam Falconer's 'concept' drawings for Luka and the Fire of Life
The choice came as a surprise to the students' teacher, senior lecturer in animation Damian Gascoigne. "He [Rushdie] didn't seem wedded to a fixed idea of how his characters should look but seemed extremely receptive to some very individual interpretations of the figures from the book," said Gascoigne. "The work he chose was a surprise to me – but in a good way. He didn't latch on to those ideas that had obvious commercial appeal but, instead, selected some that were really trying to do something a bit different."
There were three runners-up and their films are available to watch on YouTube:
Zach Ellams, Moira Lam, Tim O'Leary, Sophie Powell: watch their film
Frank Burgess, Angus Dick, James Lancett, Ben Tobitt, Sean Weston: watch their film
John Balallo, Jun Hyoung Chun, Katie Robson, Yao Xiang: watch their film
Read the opening paragraph of Luka and the Fire of Life:
There was once, in the city of Kahani in the land of Alifbay, a boy named Luka who had two pets, a bear named Dog and a dog named Bear, which meant that whenever he called out 'Dog!' the bear waddled up amiably on his hind legs, and when he shouted 'Bear!' the dog bounded towards him wagging his tail. Dog the brown bear could be a little gruff and bearish at times, but he was an expert dancer, able to get up on to his hind legs and perform with subtlety and grace the waltz, the polka, the rhumba, the wah-watusi and the twist, as well as dances from nearer home, the pounding bhangra, the twirling ghoomar (for which he wore a wide mirror-worked skirt), the warrior dances known as the spaw and the thang-ta, and the peacock dance of the south. Bear the dog was a chocolate Labrador, and a gentle, friendly dog, though sometimes a bit excitable and nervous; he absolutely could not dance, having, as the saying goes, four left feet, but to make up for his clumsiness he possessed the gift of perfect pitch, so he could sing up a storm, howling out the melodies of the most popular songs of the day, and never going out of tune. Bear the dog and Dog the bear quickly became much more than Luka's pets. They turned into his closest allies and most loyal protectors, so fierce in his defence that nobody would ever have dreamed of bullying him when they were nearby, not even his appalling classmate Ratshit, whose behaviour was usually out of control.
• Luka and the Fire of Life by Salman Rushdie published by Vintage
Buy Luke and the Fire of Life at the Guardian bookshop